Our
ingredients
Water
The perfect base
Water is the base of any good beer. At our brewery, we use water from our 274-metre-deep Artesian well, unequalled for brewing.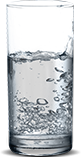 Hops
Clearly the best
Samson is directly linked with Žatec hops. Indeed, I simply can't imagine our beer without them. They are the most expensive, but undoubtedly the best in the world!

Malt
Mainly from southern Bohemia
This gives Samson its full flavour. We get most of the malt for our brewery from Tábor, and have a good reason to do so.

Yeast
Works wonders
Yeast does miracles for beer. During the fermentation process, it converts sugars into alcohol. We cultivate our own yeast for our beers.
Glass
The final component!
All our ingredients, art and experience finally unite in the glass that brings the wonderful South Bohemian beer to you, beer lovers! Cheers!